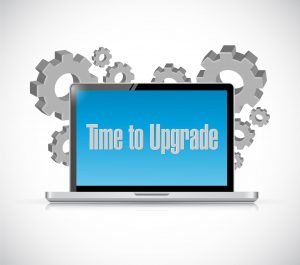 The Windows 7 end of life date is quickly approaching. If you're still behind, you should mark your calendar. Microsoft is ending extended support for this popular OS on January 14, 2020. After this date, they will stop patching security holes. Users who do not upgrade will be exposed to an ever increasing number of online threats. If you are still using Windows 7, what should you do to prepare? Read our simple guide below to find out!
Keep applying patches – especially now!
Although we always recommend updating your software, it is especially important to apply updates frequently through July of 2019. This is because Microsoft will be changing the way it supplies patches to its users. If updates were not applied leading up to July, Microsoft will stop supplying security updates altogether. This would potentially open your system up to attack a full 6 months before the official sunset date.
Upgrade to Windows 10
Since Windows 7 will no longer be viable after January 14, it is important to upgrade your operating system before that crucial date. Although there are many operating systems to choose from (we recommend Linux if you have the know-how), for most the obvious choice will be Windows 10. This offers the easiest transition since in most cases you do not need to convert any files. Also, your favorite programs will continue working without any interruption. Follow these steps to upgrade from Windows 7 to 10.
An Alternative
Not happy with Windows 10? Is your device a little too old to handle the latest system requirements from Microsoft? Fortunately, Linux still runs on most anything and is available for free. There may be a bit of a learning curve, but popular distributions such as Ubuntu have made it much more user-friendly over the years.
If you decide to install Linux, be sure and make a full backup of all your essential files and documents on a thumb drive or external disc before making the jump. Remember that most Windows programs do not work natively in Linux, although there are workarounds and Linux versions available for some of them. Overall, prepare to re-learn some tasks and to spend time searching for alternative programs. This option is for moderate-to-advanced users who aren't trying to do anything essential or time sensitive during the transition.
Can't upgrade it? Recycle it!
If all this seems a little daunting, you may be better off just buying a new system with a more recent operating system already installed. In today's market, low- to mid-level desktops are very affordable, especially when you subtract the cost of a Windows 10 license. If you go this route, a simple thumb drive can be used to transfer files and documents from your old system to the new.
Once all of your documents have been transferred, read our guide on recycling to learn how you can safely recycle your old system without compromising on security. Remember that old systems and devices contain batteries (whether you can see them or not), so it is important to discard them properly so they don't leak toxic chemicals into the water supply.