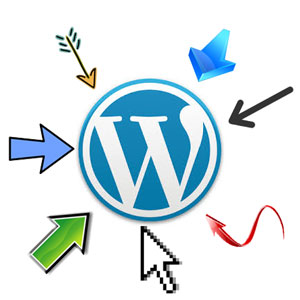 The Choice to Jump to WordPress
A number of Appletree MediaWorks sites have taken the leap from a regular website or a Joomla based website to WordPress, and we've already explained at length why we prefer the WordPress platform for a website. But what are some of the things you can expect from a WordPress site if you choose to take that leap?
Updates
WordPress can be updated on the fly, even from a mobile device – no fighting with HTML, no shuffling files around.  Simply log in and you're there. There are even apps for iOS and Android to make these fast updates even easier.
Real Time Feeds, Social Media Integration
A number of our clients have added social media feeds on the front page of their site so users can get real time updates all in one place. Plugins also allow for a company's own social media to feed right into their site as well.
Sharp, Eye Pleasing Photo Galleries
WordPress allows for impressive photo galleries – both static ones and rotating galleries to show many images with little effort. These make it easy for the client to update and add additional images.
Fast and Accurate Search Feature
In the past, on more traditional websites, it could be aggravating to use a search bar trying to find something on a website. These days, with WordPress, the search features are much more user friendly and likely to turn up intended results.
Great Looking Calendars
WordPress allows for the integration of event calendars to display what is going on in a variety of different ways to best suit your website layout and users.  These calendars can connect to all sorts of desktop and mobile calendar applications for a seamless experience.
One Step Newsletter Sign Up
WordPress makes it simple to set up a newsletter signup form and easy to organize and keep track of your subscribers.
Easy 'Sharing' Plugins
Google Plus and Facebook like/follow buttons are easy to handle on WordPress, both for the entire site, and for individual pages and posts.
Effective Plugins for Managing SEO
WordPress is designed for Search Engine Optimization. This increases the likelihood that your website will rate highly on Google or Bing. Add to this a variety of plugins that effectively manage your SEO and keywords to improve upon what you already have.
Donations Integration
A useful favorite among tools for organizations is the PayPal donation integration, letting site visitors donate to the organization without complication, whether or not they have a PayPal account.
Responsive Designs
Not everyone uses a desktop computer to browse websites these days. Fortunately, WordPress has many responsive designs that are made to look great on all devices: Phones, iPads, iPods, tablets, and other devices.
Best of all, WordPress is easy to use and maintain. We can create your custom design for WordPress, and when updates and additions are needed, these can be added quickly and effectively. We also offer WordPress training sessions to help get you started.