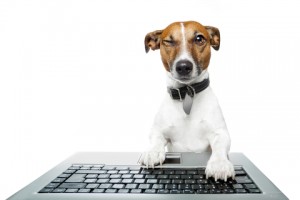 When it comes to building a website for your business, it's easy to get lost in the details – information you want to display on the site, what customers want and expect to see, and where to start. How can you make a website look good while keeping the information manageable?                 
Visible Basics
Usability: First and foremost, a business website must be usable. Your viewers need to be able to navigate the website without a lot of hassle, find what they're looking for in minimal time, and see what is before them without any effort on their part. This means that a clean layout with clear navigation is important. Think of your newspaper: you know where the header and the date and the table of contents are located. It's about the same in most newspapers, even if it may change locations on the page, it remains easy to find. Compare this to a website – if you want to find the 'Contact Us' part of the site, it should be simple and intuitive.
Readability: Usability ties heavily into readability – not only do you want things easy to find, but they need to be easy to read as well. This includes contrast between text and background, white space, and good typography. You want your viewers to stick around and read more of the website.
Typography & White Space: Your typeface should be easy to read. Google Fonts may give you access to more fonts than Arial and Verdana, but don't get carried away – the bulk of your text should remain in a clear font face, utilizing different font styles, sizes, and weights for headers. Don't use more than two or three different fonts – it's just not necessary. Also, gone are the days of tiny fonts bunched into all available space. Be sure you give plenty of breathing room for your content, not only between lines but also by using a big enough font that it is easy to read by many eyes, on many different devices.
Bullets & Lists: Bullets and lists keep your readers' eyes moving through large amounts of information. People reading websites expect ease of use and the ability to skim rapidly through large amounts of information. Use this to your advantage!
Effortless Usage
Call to Action: Not only do you want to tell your users how they can engage with your business or website, but you want to make it simple.  Want someone to sign up for a newsletter or donate through a button? Make this happen in as few clicks as possible.
Easy Forms: Using the same principle, don't ask users to complete lengthy forms – if it feels like work, they might just close the page and forget about it. Make it simple and people will be more likely to follow through to completion.
New Info: Highlight new and important information and make it very prominent to see. New users will know the site is being kept up to date and returning users do not have to search through content they've already read.
Manage Scroll: Web design is undergoing an evolution thanks to mobile devices. With smaller screens, buttons and links can be difficult to click and it's unlikely everything will fit on the screen at once in all cases. Horizontal scroll is still confusing to many users so it should still be avoided. Vertical scroll should be limited to no more than necessary. Keep a simple design  whenever possible.
Mobile Access
More Every Day: Approximately 1.2 billion people access the Internet by mobile device, and this use is on the rise. Since a viewer might access a website while looking for information on the go, the quicker they can find what they're looking for, the better.
Data Use: Mobile users are often limited to restricted data plans, so keeping images optimized and websites light and quick to load is a boon for anyone needing to find an address or number by phone. Nobody with limited data wants to wait for huge banners to load repeatedly.
Keep It Simple: Sites particularly geared for mobile users should be simple, short, and easy to navigate. Give people what they want and quickly – they'll be far less annoyed and less likely to leave.
Design
Color: Remember how we talked about making a site easy to read? Color ties heavily into this. Your color scheme is important – never make it offensive to the eye or difficult to read. Red text on a black background makes your site look dated and is hard on the eyes. Make your colors match your business, but be careful to use the colors in a way that ensures reading the text itself remains effortless.
Images: Images should support your content and make sense, not just fill up space. You might like that picture of your dog or the logo of your favorite sports team, but unless your business website is about dogs or sports, these won't be a good match for your content. Always resist the temptation to use images that do not support the content itself. Icons indicating specific information, on the other hand, can draw the eye and do wonders for your design.
Maintenance
 Storefront: Like a storefront, a website needs updating and maintenance. People like to know you're there and active. Once a site is set up, regular low-level maintenance can keep it from getting dated and stale, and may help to remind search engines that you are keeping things fresh.
Review: Review visitor statistics to make tweaks and adjustments to navigation and content. A high bounce rate means people are reaching your site from searching for certain keywords, but are not finding what they're looking for. It is a good idea to investigate those keywords and landing pages to see if there is a discrepancy worth fixing.
Guidelines: Google, Bing, and other search engines are continually updating their guidelines and how they process data. While this can be a challenge to keep track of, it can affect your traffic from search engines. Keeping up to date with these guidelines will help to bring more traffic to your website.
Here at Appletree Mediaworks, we have experience addressing all of these issues. If it seems like a lot to tackle on your own, we'd be happy to talk about the ways we can help improve or redesign your existing website.