Everyone has heard about the recent Paris Attacks on November 13th. Many people have found that the Internet helps in a crisis. The Internet can help to coordinate relief efforts while providing essential communication services to the unfortunate individuals involved in a disaster.
Google Crisis
Google has created some powerful tools to help save the day in times of crisis.
Crisis Response – Because Google's crisis response team analyzes each crisis, each response may be slightly different.
A specific response may include:
Creating a Resource Page – This is a simple web page containing the most relevant emergency information and tools available for a given crisis.
Launching Google Person Finder – This is an application which connects friends and loved ones following a disaster. This is useful when there is a large number of missing people and traditional communication lines are unavailable.

How it works: Google's Person Finder page lists current disasters. Click on a disaster and you can then choose from either "I'm looking for someone" or "I have information about someone".

Hosting a Crisis Map – This is a map that displays information concerning the disaster such as storm paths, flood zones, evacuation routes, shelter locations, and power outages. This includes official content and user-generated content.
Tools For Responders – Do you think your organization may be able to help in a disaster? Google also provides some tools for responders.
Google Public Alerts – An organization can send emergency alerts if they are relevant to an ongoing crisis. These alerts will appear on Google's search results, maps, and android devices (using Google Now).
Person Finder – This can be embedded into your company's website.
Crisis Map – This can be embedded in your company's website.
Other Google Tools – Docs, spreadsheets, and Earth are all useful tools for responders.

Facebook Safety Check Tool
The Facebook Safety Check Tool was originally created for natural disasters. After the Paris Attacks, it has opened up to man made disasters as well. Basically, the Safety Check tool notifies friends and loved ones that you're safe during a disaster.
This was original inspired by the 2011 Tohoku earthquake and tsunami and was then released on October 15th, 2014.
How It Works:
Affected Area Notification – Facebook sends you a notification if you are in an affected area and asks if you are safe.
"I'm Safe" – After receiving the notification, if you click or tap "I'm Safe" it adds a green "I'm Safe" box next to your name so others can see your status. Other friends may also confirm whether or not you are safe.
Safe Friends Notification – After the tool has been activated you will then receive notifications when your friends have marked themselves as safe.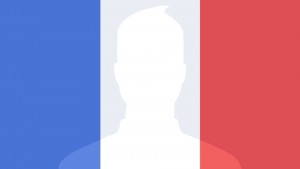 Ways Facebook responded to Paris Attacks:
Enabled their safety check
Created a profile picture filter of blue, white, and red

Twitter Alerts
What? This is an alert that contains vital real-time information during a fast moving emergency. Since this feature is intended for crisis, disaster, and emergency communications, these alerts consist of:

Warnings of imminent dangers
Preventive instructions
Evacuation directions
Urgent safety alerts
Information on access to essential resources
Information on critical transit and utility outages
Crowd and misinformation management.

Who? Only these groups are authorized to send an alert:

Law enforcement
Public safety agencies
Emergency management agencies
City and municipal governments
County and regional agencies
Select state, federal, and nation agencies and NGOs

When? Twitter Alerts are used when traditional ways of communication are not available. Such emergencies may include:

Natural disasters
Severe weather
Biological incidents
Chemical or hazardous materials emergencies
Nuclear
Radiological incidents
Explosions
Food and agricultural incidents
Cyber incidents
Terrorism incidents
Crime
Major transportation incidents

Where? Twitter Alerts send as SMS notifications. Also, an orange bell displays next to alerts on your timeline.
Think your organization qualifies? Complete the Twitter Alert Enrollment Form
How do I get Twitter alerts?  Twitter Alert Setup
Ways Twitter responded to Paris Attacks:
Use of hastags

#PorteOuverte – Translates to Open Doors. This means you need a safe place to stay or you have a safe place (with open doors).
#PrayForParis – Used to show support for Paris
#RechercheParis – Translates to Search Paris. Friends and loved ones used this to find each other.
Airbnb Disaster Relief Program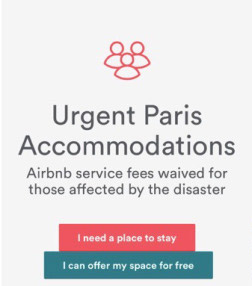 As a result of Hurricane Sandy in October 2012, many people in New York opened their doors to stranded individuals.
Airbnb, the unique online rental listing company, wanted to do the same during a disaster. They eventually created their very own disaster relief program. Airbnb even partnered with local government agencies and disaster relief organizations to make this program as effective as possible.
How it works Airbnb first sends out emails to room hosts in affected areas asking if they are in a position help. Hosts may then choose whether or not to participate. Finally, participating hosts open their doors (for free) to help people affected by the disaster.
Airbnb still offers 12/7 customer support, trust & safety tools, host guarantee and all other services.
Airbnb also uses their network to provide disaster information to the guests and hosts.
Ways Airbnb responded to Paris Attacks:
Activated their disaster relief program and many hosts in the affected areas opened their doors to help keep people safe.
Other companies that helped during the crisis
Uber – Turned off their city price surge.
Verzion, T-Mobile, Sprint, AT&T, Google, and Skype – Made calling and texts from United States to France available for free