Search engine optimization (SEO) is a constantly evolving art.
A successful SEO guru will constantly be learning and researching what makes search engines happy and take advantage where competitors have fallen short. A well trained SEO guru will help improve your site's flow and content to improve your rankings. There are thousands of SEO gurus out there, and just as many tips. So we decided we'd compile those lists for you.
The bottom line in search engine optimization is Text, Links, Popularity, and Reputation, let's take a look at each of these topics.
Text
Provide relevant, high quality, and informative content on your pages – especially your homepage. This is the single most important thing to do according to Google's Steps to a Google-friendly site. This makes sense; if you give your visitors the information they're looking for, then they will interact with your site longer which signals to search engines that your website has what visitors are looking for.
Content
Blog or write articles, adding a new article at least once a month (weekly is optimal).
Answer a question for Google.
Short and dense articles are preferred.
Access
Your website should be setup logically in an organized menu structure.
All images and content should be speed optimized.
Your website must be mobile friendly.
Keywords
Don't over-saturate your page with a single keyword.
Have your image ALT tags on all images that contain appropriate keywords.
Title tags for the page should also start with the page's keyword.
Images
Don't use graphics to display important content, search engines can't "read" what's on a graphic, only its name and ALT tag.
Name your image something useful such as "Google-SEO-chart-image.jpg" not "DSC48523.jpg".
Enable "Enhanced image search" in your Google Webmaster Central account. Allowing Google to find your photos will help your SEO efforts.
Videos
Videos are very popular online right now, your business should be capturing them wherever you can.
Make sure your website and host can handle playing videos smoothly.
Videos that show up in Google blended search results don't just come from YouTube. Be sure to submit your videos to other quality video sites like Vimeo and Yahoo to name a few.
Make sure your video descriptions are complete and descriptive.
Links
Internal links should be a clear call to action for users to make their next click.
Get your website out on "natural links", aka places you'd expect to find your website listed, such as trade magazines, affiliate sites and industry related blogs and forums.
"Unnatural links" are those that appear on paid "link farms".
Directory listings are good for search results and local results, but again limit them to the big guys, not every link farm you can find.
Backlinks are links that are made on other websites, they link "back" to your website. These can also be links in social media.
Understand social media marketing. This is part of search engine optimization – your organization must be on social media.
For extra credit, links from .edu domains are seen as extra votes by search engines, search for non-profit .edu sites that are looking for sponsors that provide links from their website to their sponsors.
Popularity
Face it: the more popular your website is, the higher its search engine ranking.
Submit your sitemap through Google Webmaster Tools and other search engines such as Bing.
Allow and encourage reviews about your business on Google, social media, Yelp, etc.
Local
There's no doubt when you look around that mobile is growing. Therefore, so are "near me" searches. Get your business showing up in the "near me" searches by optimizing your Google My Business page.
Reputation
Putting an SSL certificate on your website not only makes Google happy, but helps your reputation as a legit business.
Don't fall for "guaranteed" SEO website services, the providers likely are using black-hat tactics that in the end will get you unlisted by Google and other search engines.
Build your SEO results through steady research and ongoing tweaks and updates.
Other Tips
Pay-per-click or SEM are not bad things, they also build up your website traffic. But keep in mind, you are renting the traffic, not building the traffic like ongoing SEO does.
Check out "rich snippets" they make your search engine listing stand out and few brands have implemented them.
Take a look at your site through unbiased eyes. Turn off your Google Personalized Search results by logging out of Google and using an incognito browser, or Append "&pws=0" to the end of your search URL in the search bar.
Beware of "black-hat" SEO tactics that attempt to fool search engines with hidden and inappropriate content. According to Google "be careful; if your domain is affiliated with one of these deceptive services, it could be banned from our index."
In conclusion, search engine optimization is constantly evolving, it takes time and dedication to help your website climb up in search engine result pages (SERPs). Even if you completed every step above, it will still take up to 6 months to see results from SEO. Think of it as building a house, where as Pay-Per-Click or SEM is renting the house. We have had clients run both services simultaneously and eventually were able to decrease their SEM budget when their SEO results were bringing in more continuous traffic at a much lower cost.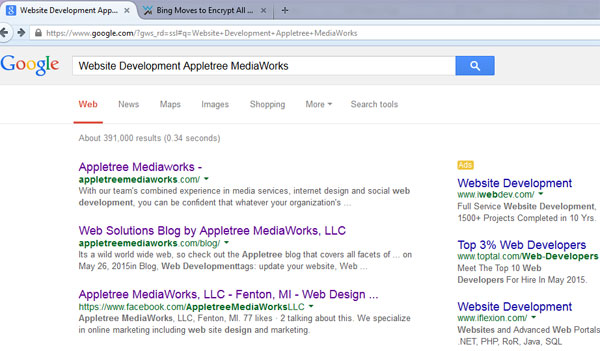 It's common for our firm to receive phone calls from businesses and organizations asking how to move up to the first pages in search engine search results.
There are two ways to move up in search engine results, SEO and SEM.
SEM
Search Engine Marketing – we call this renting search engine results. These are the pay-per-click ad links that you see at the top and off to the side on search engine result listings. You'll also see ads appears on websites you visit, these are part of SEM programs as well. A business can setup and manage their own paid search engine marketing, or have a professional firm help them set up and manage their paid ads. **Be sure you're not locked into a long term contract or forced to keep a minimum budget with the firm that is managing your SEO ad account. If a firm requires this, seek another firm.
It used to be that people only talked about Google Ad-Words, but now Bing Ads, Facebook Ads and Twitter Ads are all players in the paid online advertising world.
SEM costs per-click, every click. If you contact the ad dealers, you can often obtain some free credits to help ease you into pay-per-click ads. Yes, most consumers are immune to the little yellow "Sponsored" boxes next to the paid ads. But keep in mind many consumers can also be frustrated when they click on these paid ad links because sometimes too broad of a search term was used to create the ad and its not really related to what the consumer was searching for. This wastes the paid advertiser's money for the click and the user's time.
Apple Brings a New Way to Search
Apple heard the moans and groans of search engine users dealing with having to scroll past paid advertisements in Google and answered with "Spotlight". Apple is throwing its hat in the search engine ring with its "Spotlight" search product. If you own an Apple device you're already using Apple's search tool and helping it grow at a pace of 3% per quarter.  Apple takes search one step further and looks through the content on all sorts of online tools such as Wikepedia, maps, your email and Apps.
SEO

Search Engine Optimization – we call this building your search engine results, it takes time and planning, but time and time again SEO work has shown to be worth it for our clients. SEO is our favorite ways to move up in search engine results. If you stop putting money into SEM, your ads no longer appear.  If you ease back on your SEO work, though, your website won't just disappear from the search engine results. SEO requires creating and managing appropriate content and keywords on your website to naturally get attention from search engines, hence building your world wide web presence.
Search engines are constantly changing the way they rank websites and how much information they're willing to share about what users are typing in to to find your website. As Moz recently admitted, "we can't do keyword research like we used to do it."  Google shut the door to showing what keywords led visitors to websites last year and Bing is in the process of shutting the door on keyword reports this summer. This makes it even more important to work with an experienced agency to manage your search engine optimization so that your website will appear on the first page of search engine results.
Recipe for Success
We often recommend a mix of search engine optimization and search engine marketing to our clients. The SEM ads will drive immediate traffic to a website while we work on the SEO, which generally takes six-months of three to five hours a month to see results and witness a website moving up in search engine results. Once the SEO kicks in, the SEM ad budgets can be throttled back while maintaining the cheaper SEO maintenance plans.
[stylebox color="green" icon="letter" icon_size="32″]Got questions? Want more information? Contact Appletree MediaWorks today.[/stylebox]
Odd Jobs Done Right – Outdoor Services prides itself on giving the best quality and workmanship in outdoor services to commercial and residential clients alike.
How to Grow Your Business Online
Odd Jobs owner Bob Whituhn came to Appletree with a deep seated desire to improve his website and grow his business online. Bob's website had been built using a "build-your-own" website program. He feared his old website would be sign of the service he delivered, he wanted a website that shared his motto of quality and workmanship.
Appletree created a complete website redesign for Odd Jobs that showcased real client photos. The web design concepts were bright, fun, clean, and cheerful just like Odd Job's crew members. A custom WordPress integration included many WordPress plugins that helped meet the client's need for search engine optimization, website interactivity and social media integration to build their business sales marketing.
Client Training
The client had zero experience with using WordPress to perform website maintenance. Appletree provided a hands on two hour client training session to teach the owner to maintain and update his new WordPress website. The training also included lessons on using Facebook and Twitter to grow his social media audience. Within a few days the client had taken over maintenance of his own website and social media.
[alertbox]
Site Features Include:
Custom WordPress Theme Design, Facebook and Twitter Integration, Inline Contact Forms, Spam Prevention, Online Employment Form, Mobile Device Compatibility, Email Setup, Domain Services, Anti-Hacking Tools, Search Engine Optimization (SEO), Interactive Photo Galleries, Website Visitor Reporting, Digital Media Services, Content Writing
See it live: Linden Landscape Company[/alertbox]