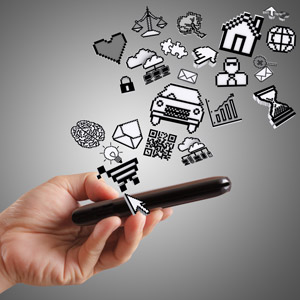 Is Your Website Mobile Ready?

According to Pew Research Center, over half of adult Americans own a smartphone – a full 55% of the adult population, and that number is only increasing. This means it has become essential that a person using their phone to search the web can access and easily navigate your website. What makes a website good or bad for the internet? We'll go over those points, and what you can do to ensure you know how to make a website mobile ready.
First, it can help to find out how many people are accessing your website via mobile devices. The simplest way to do this is take a look at Google Analytics. This tool has the option to see what platform, device, and browser people are using to access your site. Some sites are more likely to be accessed from a phone than others, but most sites have at least some content that people might want to quickly access on-the-go. Try to think about parts of your website that someone might want to access while out on the road. For example, if your business has a physical location, your address and phone number should be prominently displayed on your mobile site.
What are the problems with ordinary sites?
There are a few problems that make navigating a website tricky from a mobile device:
Too much right-scrolling. Your computer monitor is going to be much wider than any mobile device, and if your website persists in maintaining that wider-than-high aspect ratio, it's going to force people to scroll right when they expect to be scrolling down.
Small Text. Phone screens are tiny, and if your text does not scale properly, users are going to have to continually 'pinch' their screens to zoom in. This gets tedious when you have to pinch AND side-scroll. That's work, and people don't want to work to find your info on a website.
Images and Videos are not adjusted. It's important that a user not have to do finger-screen gymnastics to view an image or watch a video.
Website loads too slow. Phones using data plans are usually considerably slower to load content than a regular computer connected to high speed internet. Additionally, data plans can be limited and capped. Don't make a user spend precious time and data downloading content that is unnecessary.
Navigation is difficult. Dropdown menus and lots of small buttons and links might be perfectly fine for a mouse, but generally a person is not going to carry a stylus to click on an itty-bitty link. Be sure a button is big enough to afford even the larger-fingered among us some accuracy.
How make things mobile-friendly
All that said, making sure you have a mobile-friendly website is not the beast of a challenge it may seem like. You have a few options to consider:
Build a mobile version of your site. Technically, you will have two sites, one optimized for mobile devices, the other for the web. The problem here is that both sites are going to need maintenance and updating, and forgetting the content for your mobile site is going to be potentially worse than an inconvenient site.
Use a Mobile-Optimized theme. If your site is targeted primarily at mobile users, it may be worth the time to consider designing your website with a mobile device in mind, and then adjust it accordingly for computer-based use later.
Build an app. Lately everyone has jumped on the app bandwagon, but an app to download on a device may be worth your time to consider if your site does special things or has features that are above and beyond the needs of a website. If your app is just going to be a downloadable reproduction of your website, however, it may not be worth the time and effort.
Use a responsive design. Appletree Mediaworks' more recent web designs are responsive, geared both for use on a computer's web browser and mobile devices concurrently. Responsive sites seamlessly transform themselves to fit whatever device they are being viewed on. Many WordPress themes are designed to be responsive.