Visual marketing continues to be on the rise, this makes sense as people are more likely to remember what they see compared to what they read. Keep in mind 90% of the information transmitted to the brain is visual. Social media now places an emphasis on visual content hosted (uploaded) directly to it. Even Twitter got in the game and started allowing photos to be added to Tweets.
Evolution of Website Content
Facebook "Live" videos are the craze right now, this makes sense as we're seeing video content represent almost 70% of internet traffic. Two Million videos are uploaded every day! A recent survey showed that consumers prefer to watch a video about a product or service over reading about it 4 to 1. One would have never imagined making a career out of videoing yourself playing video games, but that is now a viable career for many of today's YouTube stars.
Video backgrounds are one of the biggest requests we're getting from our clients looking to update their websites.

Be a Show Off
If you're part of an organization get your phone out at every event and training. Capture some pictures of your event, let people see your organization in action. Share those photos to your social media and add them into articles on your website about the event. Mark them as featured images too so that when visitors share your articles your photos show as social media thumbnails.
Keep an area on your cloud storage for just photos. If you use a program like Dropbox invite members to add their photos to a "deposit" folder, then move them to your permanent photo storage folder. Organize them by year and rename them by event and date to make them easier to search for later.
What to Be Aware Of
There are a couple of things to keep in mind while creating visual content for your website.
Keep This Confidential
Some trainings and workplace photos and videos may also be prohibited for confidentiality and business trade reasons. Always double check with those in charge or a facility manager before taking and posting footage in a private business. On a side note, unless posted you generally can take photos and video of public events.
Anti-Socials
Not everyone wants to be on social media or on webpages. Maybe announce when taking a photo that you're going to add it to your organization's website or social media. Those that don't want to be featured will likely tell you. Or better yet include a clause about photos in your membership documentation so you have permission to use images of the membership. Keep in mind many families do not want their children's pictures and names on the internet, so be sure to ask families before taking pictures of children.
Sound Off
A whopping 85% of videos are watched on Facebook with the sound off, so consider adding captions to your videos you're posting on Facebook.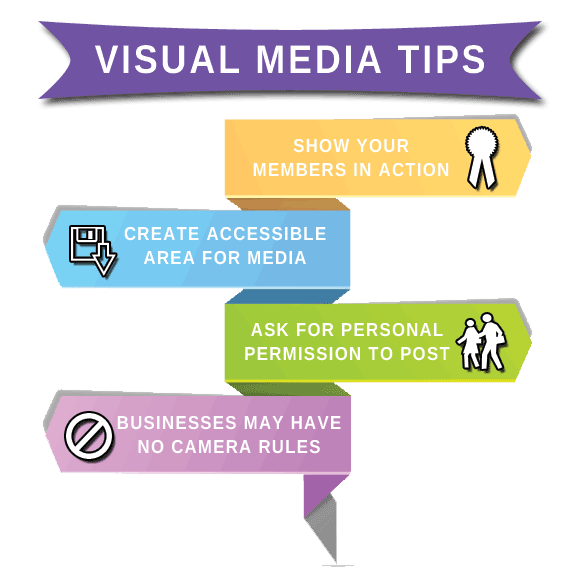 Visual Marketing
With today's phones and tablets equipped with great cameras its easy to capture video.  Many affordable programs have come online that help newbies create compelling images without a graphic design background. Programs like Stencil and Canva make visual marketing easy for everyone. You can also turn your photos into videos with free software like iMovie.