Windows 10: Taking the Low Road to Market Domination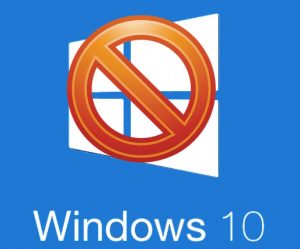 Microsoft's behavior throughout its rollout of Windows 10 has sparked deep concern among analysts and consumers alike – and rightly so. In recent months, the software giant has been brazenly employing the same deceptive tactics first perfected by malware developers. By their playbook, you will upgrade like it or not. And once you're on board, well – you're only a passenger on this crazy train.
If You Trick Them, They Will Upgrade to Windows 10
Make no mistake, Microsoft really wants you to upgrade to Windows 10. If you're using Windows 7 or 8.1 you already know this by now – how could you not? Users of these versions, together still totaling over 55% of the global market share, have been inundated with Windows 10 "upgrade now" popups and notices spamming their systems for nearly a year.
Though popups alone do not constitute deceptive practices, things get seedy when we look at how the popups themselves behave. Taking a page directly out of the malware developer's handbook, in many cases Microsoft simply decided to remove any option to decline the upgrade. In December, InfoWorld reported that Microsoft had narrowed your upgrade options to simply "Upgrade Now" or "Upgrade Tonight".
Not surprisingly, many users saw popups like these and did the only thing in their power to close the window, dismissing it by using the ever-dependable X button. However, despite 31 years of precedent, Microsoft had secretly designed the X button in this single circumstance to imply consent, opting the unsuspecting user into an upgrade they had actually been trying to decline. This is classic malware behavior. Even when later confronted about the debacle, Microsoft refused to correct it, opting instead to add more popups without bothering to fix the existing ones.
If you thought widespread criticism would have forced the company to take a softer turn – you would be wrong. In May, CNET reported that Windows Update had started scheduling and performing the update without any user input (or consent) whatsoever. To prevent Windows 10 from installing itself, you would have to find the setting and manually disable or reschedule it yourself, without necessarily even knowing that it had been scheduled to happen in the first place.
Bait and Switch: Windows 10 Subscriptions are No Myth
Now that it has pillaged itself a truly captive audience, Microsoft has finally confirmed that Windows 10 will, in fact, be switching to a subscription model, despite spending nearly a year vehemently denying those very rumors.
Though limited to Enterprise editions for now ($7 per user per month), analysis of Microsoft's overall strategies suggests strongly that the fee will extend to all editions within 2-3 years when Windows 10 will become "Windows" and join the company's growing SaaS (Software as a Service) lineup. Microsoft has already confirmed that 10 will be the last major version, revealing plans to morph the operating system over time into "Windows as a service". This means users who gallantly upgraded had no idea the terms of that arrangement would eventually entail a monthly fee. They were locked into terms to which they did not consent.
Computing in a Glass House
Apple and Google may have started the trend in collecting their customers' personal information. But Microsoft has taken this concept to an unprecedented level with Windows 10. A simple glance at the operating system's privacy policy reveals some disturbingly broad language, such as this little gem:
Finally, we will access, disclose and preserve personal data, including your content (such as the content of your emails in Outlook.com, or files in private folders on OneDrive), when we have a good faith belief that doing so is necessary…
Agreeing to such terms effectively gives Microsoft – and the government(s) to which it discloses – full legal authority to access and make copies of your files, emails, personal data, and more. Microsoft would argue that it collects information so that it may tailor a better experience for you. But is a customized experience worth this sort of exchange? When a company consistently behaves in a way that hardly distinguishes itself from malware developers, why should we trust it?
The implications only grow when we consider that individuals are not the only stakeholders here. Company-owned computers often hold valuable trade secrets. Would installing Windows 10 on such a machine expose those documents to disclosure? Would Microsoft employees be able to willfully peruse classified documents stored on a politician's Windows 10 laptop? Microsoft's answer so far appears to be "trust us".
Glenn Greenwald's TED talk "Why Privacy Matters" better explains the stakes, if you have doubts whether privacy is a concern.
Guarding Yourself against the Empire
If you'd like to keep using Windows 7 or 8.1 for as long as possible, Appletree MediaWorks recommend a tool called GWX Control Panel, which allows you to disable all Windows 10 notifications and behavior, effectively putting you back in the driver's seat. Keep in mind, however, that this is only a temporary solution. Windows 7 extended support ends in 2020, while Windows 8 ends in 2023. After extended support officially expires, Microsoft will no longer offer security updates against emerging threats, leaving those systems vulnerable to attack.
If you are currently using Windows 10, we suggest installing Spybot Anti-Beacon. This free tool cripples the operating system's ability to send data back to Microsoft. Reddit has also produced a very thorough guide for adjusting your privacy settings to further protect yourself.
For a more permanent solution, Linux has emerged as a solid contender in the operating system marketplace. Although it tends to attract more advanced users, certain distributions such as Mint and Ubuntu have excelled at creating very user friendly and feature-rich novice-level desktop environments. Linux will never be subscription based since it is community owned, developed by thousands of programmers from around the world. It stands alone as the last major operating system where privacy and freedom remain intact. Since its source code is open, independent experts from around the globe review it repeatedly. This is a development model which, by its very nature, creates an effective natural barrier against back doors, beacons, and other malicious code.