The Information Age
When the Web emerged in 1989, few could have predicted the profound impact it would eventually have on our world. Today, there are few places one can go without witnessing its effects. Indeed, we are quickly approaching an exciting moment in human history where everybody around the globe can connect to vast troves of information – and to each other. The recent Net Neutrality Repeal seeks to take away that ability.
This coming reality brings with it much opportunity – and also much peril. Reliable, unfiltered access to the internet provides such a powerful socioeconomic benefit in the modern world that those without are at a serious disadvantage. Potentially exacerbating this problem, carriers like Comcast would like to be allowed to slow or block access to some websites and customers. We saw an example of this behavior back in 2008 when the FCC ordered Comcast to stop discriminating because it found the carrier had been blocking Bittorrent traffic. This case set up a near-decade-long precedent that internet traffic was to be treated neutrally. This standard prevented powerful corporations from having a chilling effect on speech and the goal of universal accessibility.
What Is Net Neutrality For?
Understanding the potential for abuse by carrier companies, President Obama endorsed strong open internet rules in 2014. These rules finally passed in 2015. Also known as "Net Neutrality," the FCC's new Open Internet Rules finally clarified and codified into law the long-held precedent that the internet should be fair, open, and accessible to all.
The FCC's Open Internet Rules set the following standard for net neutrality:
…Building on this strong legal foundation, the Open Internet Order will ban:

Paid Prioritization: "Fast lanes" will not divide the Internet into "haves" and "have-nots."
Blocking: Consumers will get what they pay for – unfettered access to any lawful content on the Internet.
Throttling: Degrading access to legal content and services can have the same effect as blocking and will not be permitted.

These enforceable, bright-line rules assure the rights of Internet users to go where they want, when they want, and the rights of innovators to introduce new products without asking anyone's permission.
These rules protect the rights of consumers while preventing carrier companies from controlling online speech. For an easy explanation of what Net Neutrality does, watch this short video from American Public Media:
Net Neutrality Repeal Happened. Now What?
In the Open Internet Order (AKA net neutrality repeal) we see strong indications about what to expect from carriers in a world without regulation. Without even adequate competition to keep them in check, carrier companies will be in an extremely powerful media position. They will be able to control online content by throttling or outright blocking websites they do not agree with. Non-mainstream media outlets, blogs, and even competing companies may fall victim to carrier discrimination.
Likewise, they will be free to create internet "fast lanes". This will give those who can afford such privileged access another advantage over those who cannot. In this way, carriers will be able to discriminate against their customers. Since broadband competition is rare in the US, consumers won't likely be able to escape should they find their provider engaging in such practices.
Eventually, carriers could start organizing their internet packages like they do with cable television, where consumers are expected to purchase various "addons" in order to access the websites they like. Congressman Ro Khanna pointed out in a Tweet that Portugal, which has no such neutrality rules, is already seeing such packages sold to the public. A satirist created this eerie image to illustrate what this future might look like in the US (click to zoom):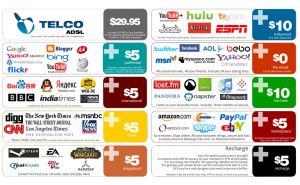 Source: The Verge
What Can I do?
The FCC – under Trump-appointed Chairman Ajit Pai – voted in May 2017 to move forward with the rollback of Net Neutrality. Unfortunately, they have the power to do this, but not without first collecting public comments. If the possibility of losing our free and open internet worries you, consider submitting a public comment over at fcc.gov/ecfs/filings/express. The current Proceeding on the the Net Neutrality repeal topic is 17-108.
Want to take it one step further? Consider writing a letter to your representatives in Congress. An initiative called Battle for the Net is urging Congress to stop the Net Neutrality rollback – and they can do it! By passing a "Resolution of Disapproval", Congress can effectively overturn the FCC vote. Check the scorecard to see which representatives are trying to save the internet – and which are instead lining their own pockets.